Highlights
Gold-bearing quartz vein intersected in step-out drilling on Buckingham Vein
Vein remains open to southeast and at depth
Total known vein strike length of over 200 m; vein remains open to southeast and at depth
33.50 g/t Au over 1.29 m (BUCK-018) in a 33 m step-out from previous drilling
1.40 g/t Au over 2.75 m including 2.90 g/t Au over 1.25 m (BUCK-019) in 66 m step-out from previous drilling
37.70 g/t Au over 1.50 m (BUCK-022b), beginning at 15 m from surface
6.56 g/t Au over 2.18 m (BUCK-020) in a 50 m step-out from previous drilling
Phase 2 of the diamond drill program at Buckingham Gold Property located in Central Virginia, USA has been completed. Phase 2 of the 2020 Buckingham drill program comprised seven (7) large diameter (HQ) oriented diamond drill holes totaling 803 metres (m), which added to the 1,218 m drilled in ten holes in the first phase of the program in March; results from two of these holes have been previously reported (see August 4 and 10, 2020 Aston Bay press releases).
Drill hole locations with the significant gold intercepts can be seen in Figure 1 and in a longitudinal cross section in Figure 2. Refer to the July 27, 2019 and August 5, 2020, Aston Bay news releases for additional information on previous drilling.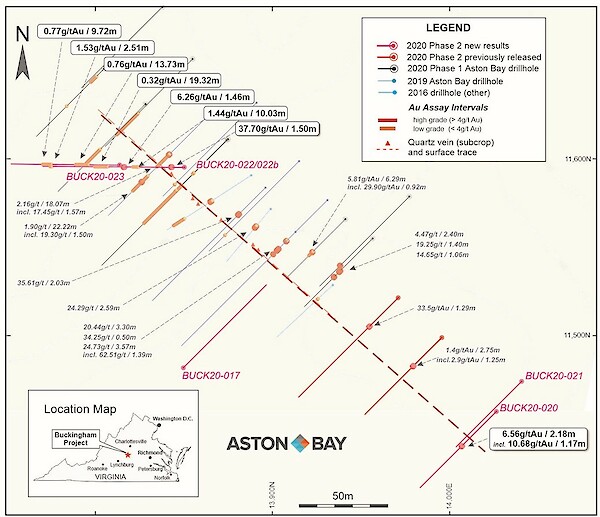 Figure 1: Plan map with drill hole locations and final results for 2020 Phase 2 drilling, Buckingham Gold Project, Virginia. Select significant assay intervals from previous drill programs noted. Local grid in metres.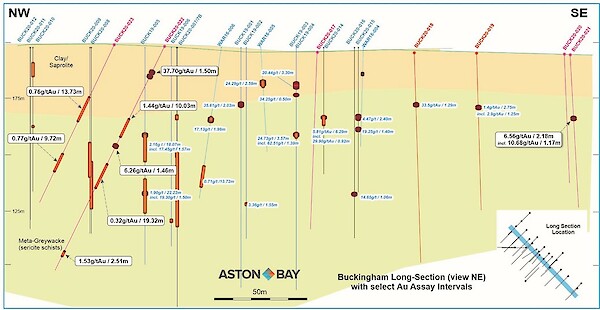 Figure 2: Longitudinal cross section with significant gold intercepts, Buckingham Gold Project, Virginia. 2020. Final Phase 2 drill intercepts in white boxes; previous drill intercepts in blue italics. View looking northeast.
In this recently completed Phase 2 drilling, four of the drill holes (BUCK-018 through BUCK-021, see Figure 1) targeted the along-strike projection of the Buckingham Vein; all four holes intersected quartz vein material indicating an along-strike extension of 150 m from the 2019 drilling for a total known strike length of over 200 m for the vein. Photographs of the quartz vein intercepts are presented in Figure 3. Three of the drill holes intersected gold mineralization in the quartz vein: 33.50 g/t Au over 1.29 m in BUCK-018, 1.40 g/t Au over 2.75 m including 2.90 g/t Au over 1.25 m in BUCK-019 and 6.56 g/t Au over 2.18 m in BUCK-020. BUCK-021 intersected quartz vein material over 1.08 m core length approximately 25 m vertically below the gold-bearing quartz vein intersection in BUCK-020; the BUCK-021 yielded no significant gold, however.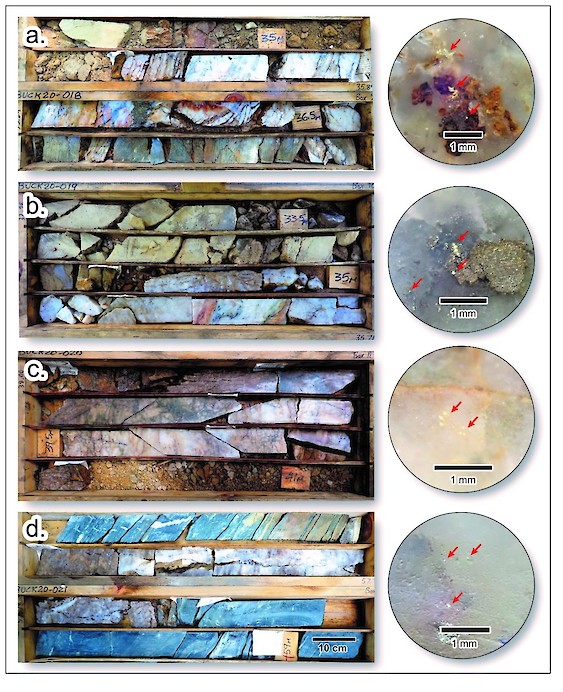 Figure 3: Photographs of quartz vein intervals intersected in HQ-sized diamond drill holes: a) BUCK-018, b) BUCK-019, c) BUCK-020 and d) BUCK-021 with examples of visible gold noted in each intersection depicted at right, indicated by red arrows. Assay results pending. Scale as noted.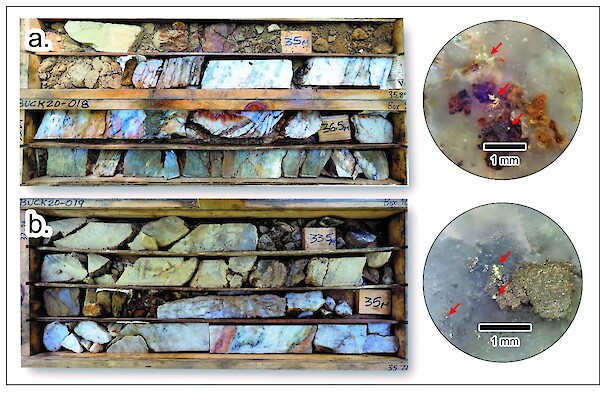 Figure 4: Photograph of quartz vein intervals intersected in HQ-sized diamond drill hole a) BUCK-018 and b) BUCK-19 with examples of visible gold depicted at right, indicated by red arrows. Scale as noted.
BUCK-022 and -022b intersected gold-bearing quartz vein at approximately 12 m vertically below the surface. Core recovery was poor in BUCK-022 yielding 12.50 g/t Au over an estimated 1.5m core length, but a re-drill of the top section of the hole yielded 37.70 g/t Au over 1.50 m in BUCK-022b. Also intersected deep down the hole in BUCK-022 were zones of altered volcaniclastic rock with thin quartz veinlets yielding 1.44 g/t Au over 10.03 m starting at 44m downhole, 6.26 g/t Au over 1.46 m starting at 60.16 m downhole and 0.32 g/t Au over 19.32 m starting at 92.12 m. Similar zones of mineralization were intersected in BUCK-023: 0.57 g/t Au over 21.72 m starting at 24.42 m downhole and 0.77 g/t Au over 9.72 m starting at 65.71 m. BUCK-021 was drilled underneath a gold in soil anomaly west of the vein and did not intersect any significant mineralization.