Toronto, Canada – January 24, 2017 – Aston Bay Holdings Ltd. (TSX-V: BAY) ("Aston Bay" or the "Company") is pleased to announce that the Company has received complete geochemical results for the summer soil sampling program at the Storm Property ("Storm"), Somerset Island, Nunavut. The Company collected 2,005 soil samples over an area of approximately 120 km north-south and 20 to 40 km east-west on the property. The samples were analysed for multi-element geochemistry at ALS Minerals of Vancouver B.C. Analytical results for copper are presented in Figure 1; results for zinc are presented in Figure 2.
"The soil sampling survey has both replicated previously-known copper in soil anomalies, as well as delineated several new areas with anomalous copper and zinc concentrations," stated Thomas Ullrich, CEO of Aston Bay. "We are excited to investigate the source of these anomalies in future programs at Storm."
The drill collar locations for the twelve diamond holes drilled in the 2016 program are also depicted in Figure 1. Results from three drill holes with visual copper mineralization were previously presented (refer to Aston Bay's October 6, 2016 press release). Assay results from all three of these holes confirmed significant copper mineralization, with a best intersection of 16 m of 3.07% copper (Cu) and 12.26 grams per tonne (g/t) silver (Ag) in hole STOR1601D. The other nine holes had no visual copper mineralization, with no significant copper mineralization in the assay results. The collar location, azimuth, inclination and hole depth are presented in Table 1.
Aston Bay also announces that it is granting stock options in accordance with the terms and conditions of its rolling Stock Option Plan, entitling the purchase of an aggregate 500,000 common shares by Dr. David Broughton, newly appointed as Chief Geologist, Storm and Seal Projects for Aston Bay. Each stock option will vest 12 months from the date of grant and will be exercisable at $0.20 per common share until January 24, 2024. "Dr. Broughton is an award-winning geologist, an expert in sediment-hosted deposits, and has been an instrumental team member in several significant discoveries," stated Mr. Ullrich. "We are pleased to have him on our team to investigate the copper and zinc potential of our Storm and Seal Projects."
Further to Aston Bay's news release dated May 31, 2016, the field season was funded pursuant to the Company's Option Agreement with BHP Billiton (the "Option Agreement"). Notice of termination of the Option Agreement has been received by Aston Bay (refer to Aston Bay's January 20, 2017 press release).

Figure 1. Copper in soil results and drill collar location map for 2016 exploration program, Storm Property, Nunavut.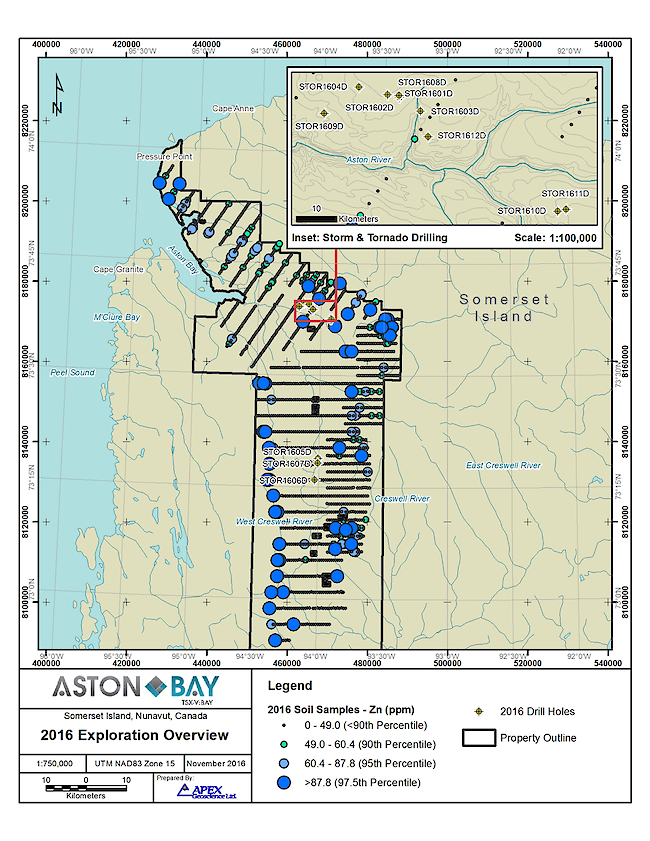 Figure 2. Zinc in soil results and drill collar location map for 2016 exploration program, Storm Property, Nunavut.
Table 1. Drill hole collar data, Storm Property 2016 drill program.
Hole ID
Easting (m)
WGS84 Z15
Northing (m)
WGS84 Z15
Elevation
(m)
Azimuth
Inclination
Hole Depth
(m)
STOR1601D
465624
8174249
290
0
-75
149.7
STOR1602D
465231
8174343
299
180
-60
123.4
STOR1603D
466322
8173806
260
240
-60
179
STOR1604D
464286
8174600
293
180
-90
122
STOR1605D
467850
8135800
234
90
-80
200
STOR1606D
466945
8130550
260
270
-80
279
STOR1607D
467703
8134739
264
270
-80
159
STOR1608D
465618
8174324
302
180
-75
179
STOR1609D
463133
8173730
227
180
-60
125
STOR1610D
470892
8170472
287
240
-75
180
STOR1611D
471170
8170540
296
240
-75
108
STOR1612D
466575
8172947
261
180
-80
147
Qualified Person
As per National Instrument 43-101 Standards of Disclosure for Mineral Projects, Michael Dufresne, M.Sc., P.Geol., P.Geo., a Director of and a consultant to Aston Bay, is the Qualified Person for the Company and has prepared, validated and approved the technical and scientific content of this news release. The Company strictly adheres to CIM Best Practices Guidelines in conducting, documenting, and reporting its exploration activities on the Storm Project.
Quality Assurance – Quality Control
Once received from the drill and processed, all drill core samples are sawn in half, labelled and bagged. The remaining drill core is stored in Yellowknife at a secure facility. Numbered security tags are applied to lab shipments for chain of custody requirements. The Company inserts quality control (QC) samples at regular intervals in the sample stream, including duplicate samples, blanks and reference materials with all sample shipments to monitor laboratory performance. The QAQC program was designed and approved by Michael Dufresne, the Qualified Person.
Drill core samples are submitted to ALS Geochemistry's analytical facility in Yellowknife where the samples are initially prepped and then sent to North Vancouver, British Columbia for additional preparation and analysis. The ALS facility is accredited to the ISO/IEC 17025 standard for precious and base metal assays and all analytical methods include quality control materials at set frequencies with established data acceptance criteria. The entire sample is coarse crushed with approximately 250 grams extracted and pulverized. Samples are initially analyzed using a 48 multi-elemental geochemical package by a 4-acid digestion, followed by Inductively Coupled Plasma Atomic Emission Spectroscopy (ICP-AES) and Inductively Coupled Plasma Mass Spectroscopy (ICP-MS).
Soil samples were collected from holes dug 10 to 30 cm deep using stainless steel shovels. Samples weighing approximately 1.5 kg were placed into a labelled plastic sample bag along with a sample tag inscribed with the unique sample number. Sample locations were recorded with a handheld GPS and written on a sample book bearing the matching sample number, the date and the sampler's name. Additional details such as surface geology, landform, sampling depth, soil colour, soil material, grain size, sorting, rounding, moisture and a general sample description were also recorded and later transcribed to digital format.
Two representative splits were taken from each sample. A split of approximately 250 grams was placed into a labelled Kraft soil sample bag along with a sample tag bearing the unique sample number. These splits were dried, packed in boxes and shipped to a secure storage facility for future reference. The second split of approximately 100 grams was dried in paper cups and analyzed on-site by X-Ray Fluorescence (XRF). The XRF analysis was intended to provide preliminary results that could be used to direct potential infill sampling. The XRF samples were discarded after analysis.
Soil samples were placed into woven poly (rice) bags for shipment to the analyzing laboratory. Cable ties were used to securely close the rice bags. Sample shipments were flown by Twin Otter from Storm Camp to Resolute Bay, and stored securely in an Atco warehouse while awaiting shipment to Yellowknife. The samples were subsequently flown south by chartered 737, received in Yellowknife by DMS, and stored securely until delivery to the laboratory. All soil samples were delivered to the ALS preparation lab in Yellowknife, NT. The samples were analyzed at the ALS Minerals laboratory in North Vancouver, BC.
About Aston Bay Holdings Ltd.
Aston Bay Holdings Ltd. (TSX-V: BAY) is a publicly traded mineral exploration company focused on the 976,066-acre (395,000-hectare) Aston Bay Property located on northwest Somerset Island, Nunavut. The Aston Bay Property hosts the Storm Copper project and the Seal Zinc project. Historical drilling has confirmed the presence of sediment-hosted copper and zinc mineralization on the property.
On behalf of the Board of Directors,
Thomas Ullrich, Chief Executive Officer
Telephone: (416) 456-3516
For further information about Aston Bay Holdings Ltd. or this news release, please visit our website at https://astonbayholdings.com.
About BHP Billiton Ltd.
Further information on BHP Billiton can be found at: bhpbilliton.com.
Neither the TSX Venture Exchange Inc. nor its Regulation Services Provider (as that term is defined in the policies of the TSX Venture Exchange) accepts responsibility for the adequacy or accuracy of this release.
This news release contains certain statements that may be deemed "forward-looking statements". Forward-looking statements are statements that are not historical facts and are generally, but not always, identified by the words "expects", "plans", "anticipates", "believes", "intends", "estimates", "projects", "potential" and similar expressions, or that events or conditions "will", "would", "may", "could" or "should" occur. Although the Company believes the expectations expressed in such forward-looking statements are based on reasonable assumptions, such statements are not guarantees of future performance and actual results may differ materially from those in forward-looking statements. Forward-looking statements are based on the beliefs, estimates and opinions of the Company's management on the date the statements are made. In the event that management's beliefs, estimates or opinions, or other factors, should change, the Company undertakes no obligation to update these forward-looking statements, except as required by law.
We seek Safe Harbor.
THIS PRESS RELEASE, REQUIRED BY APPLICABLE CANADIAN LAWS, IS NOT FOR DISTRIBUTION TO U.S. NEWS SERVICES OR FOR DISSEMINATION IN THE UNITED STATES, AND DOES NOT CONSTITUTE AN OFFER TO SELL OR A SOLICITATION OF AN OFFER TO SELL ANY OF THE SECURITIES DESCRIBED HEREIN IN THE UNITED STATES. THESE SECURITIES HAVE NOT BEEN, AND WILL NOT BE, REGISTERED UNDER THE UNITED STATES SECURITIES ACT OF 1933, AS AMENDED, OR ANY STATE SECURITIES LAWS, AND MAY NOT BE OFFERED OR SOLD IN THE UNITED STATES OR TO U.S. PERSONS UNLESS REGISTERED OR EXEMPT THEREFROM.