November 30, 2017 – Toronto, ON – Aston Bay Holdings Ltd. ("Aston Bay" or the "Company") (BAY:TSX-V) is pleased to announce that it has received the initial processed data from the Falcon Plus Airborne Gravity Gradiometry survey conducted by CGG Multi-Physics on its Aston Bay Property on Somerset Island, Nunavut. The Property comprises a district-scale, over 414,000-hectare grouping of mineral claims and prospecting licences within the southern part of the Cornwallis Fold Belt, host to numerous base metal showings and deposits, including the world-class Polaris zinc mine, which produced 20.1 Mt grading 13.4% Zn and 3.6% Pb. The new high-resolution survey was completed in August through September 2017 over two large blocks within the Property area and acquired a total of 15,327 line-kilometres of data at a line spacing of 200 metres (Figure 1). The Property is underlain mainly by very shallow-dipping Paleozoic carbonate strata. Hence the survey was designed to detect horst-graben features indicative of potentially favourable "structural plumbing" for stratiform base metal mineralization, as well as detection of blind, sub-surface mineralization within the carbonate strata.
Key areas covered by the survey include the Storm Copper prospect and Seal Zinc prospect in the northern block, and the Typhoon Zinc prospect and nearby target areas in the south. All three areas returned strong gravity responses that will be evaluated in detail by the Company's geological and geophysical team prior to selection of diamond drill targets for the planned 2018 summer field program.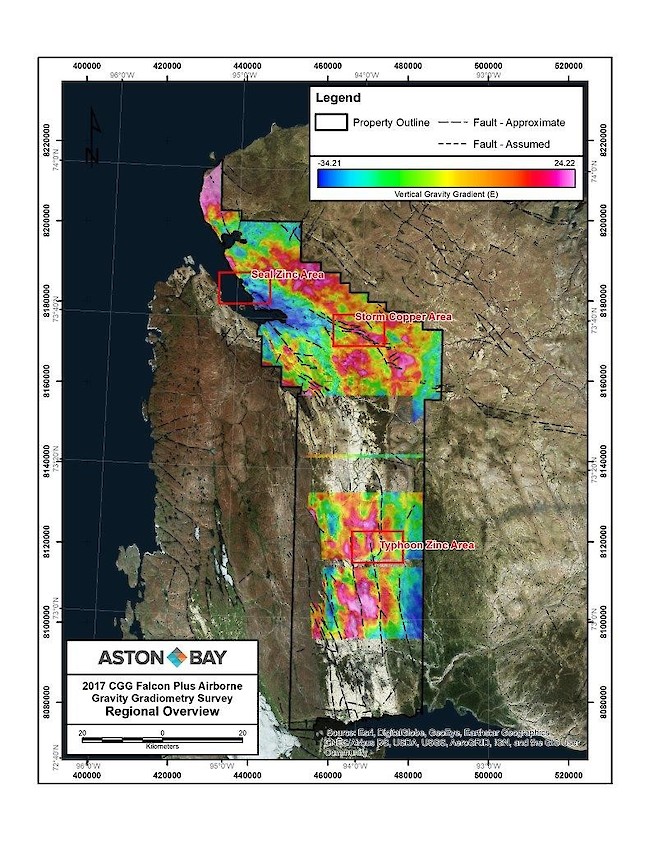 Figure 1. Regional overview of the 2017 CGG Falcon Plus Airborne Gravity Gradiometry Survey, Aston Bay Property, Nunavut.
The Storm Copper prospect and Seal Zinc prospect occur with the northern survey block, characterized by a mainly east-west structural-stratigraphic grain. The Storm prospect comprises four high-grade dominantly chalcocite occurrences associated with an east-west graben, partially delineated by prior diamond drilling (Figure 2). Copper-silver mineralization occurs both in close association with steeply dipping graben-bounding faults and as broadly stratiform mineralization lateral to the faults. The gravity survey returned strong responses along and within the graben, including three anomalies spatially associated with the 4100N, 2750N and 2200N occurrences; these anomalies extend well beyond the current drilling and are potential drill targets.
A fourth composite gravity anomaly occurs along the eastern extension of the Storm graben and is spatially associated with the Tornado copper occurrence, which to date has seen only two diamond drill holes. The gravity data suggest the presence of a second-order graben on the northern flank of the main structure, to date untested. A fifth gravity anomaly occurs along the northern flank of the Storm graben, west along strike from the large 4100N occurrence, and is also poorly tested to date.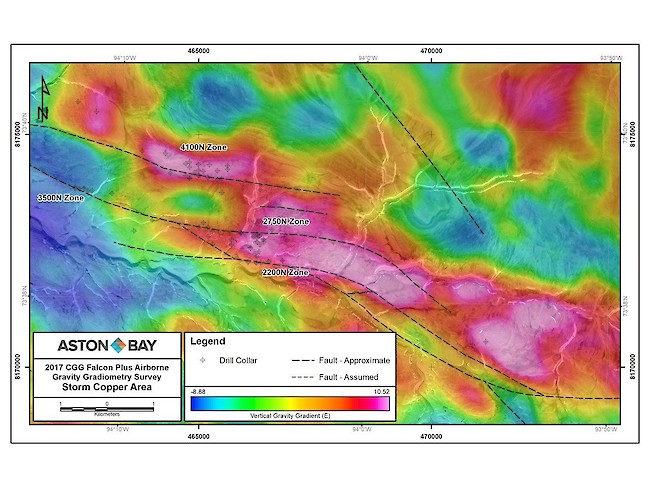 Figure 2. Storm Copper Prospect area detailed view from the 2017 CGG Falcon Plus Airborne Gravity Gradiometry Survey, Aston Bay Property, Nunavut
The Seal Zinc prospect occurs on tidewater west of the Storm prospects, and comprises disseminated to massive sphalerite-pyrite-marcasite mineralization primarily in arenaceous sandstone at the base of dolostones of the Ship Point Formation. Previous drilling by Teck Resources Ltd. (formerly Cominco Ltd.) outlined a small but high-grade historic zinc-silver resource that was constructed prior to the implementation of NI 43-101 standards and that it should not be relied upon. The historic resource is currently the subject of an independent NI 43-101 resource estimation, expected to be released shortly. Newly acquired gravity data over both the Seal prospect area and the rocks along stratigraphic trend to the NW and SE delineate a strong gravity response coincident with the mineralization and the trend. The anomalous areas to the NW and SE have not previously been tested by diamond drilling. The Polaris zinc-lead deposit was discovered by drilling a blind gravity target in the vicinity of small surface showings, and the Company is encouraged by the potential for blind mineralization associated with these targets.
The southern, relatively poorly known, part of the Property is underlain by north-south trending Paleozoic carbonate and Precambrian basement strata, with several base metal showings and areas of geological complexity of interest to Aston Bay. The central part of this area was covered by the new survey, which outlined a strong north-south pattern of alternating gravity highs and lows possibly indicative of favourable horst-and-graben structures. Further refinement of the geology and survey results will be completed to guide ongoing exploration.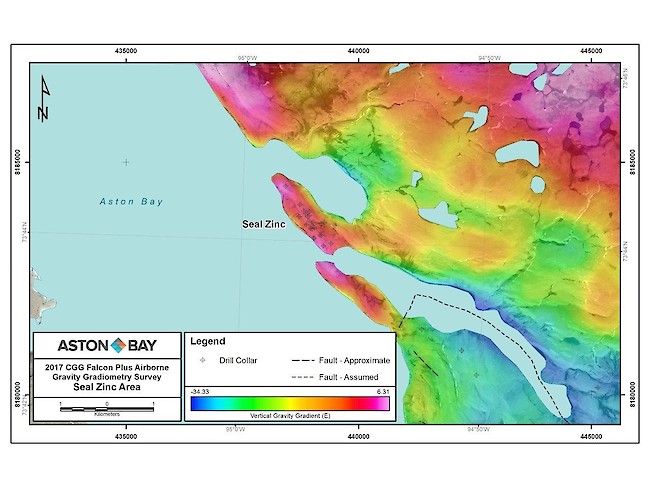 Figure 3. Seal Zinc Prospect area detailed view from the 2017 CGG Falcon Plus Airborne Gravity Gradiometry Survey, Aston Bay Property, Nunavut.
QUALIFIED PERSON
As per National Instrument 43-101 Standards of Disclosure for Mineral Projects, Michael Dufresne, M.Sc., P.Geol., P.Geo., a Director of and a consultant to Aston Bay, is the Qualified Person for the Company and has prepared, validated and approved the technical and scientific content of this news release. The Company strictly adheres to CIM Best Practices Guidelines in conducting, documenting, and reporting its exploration activities on the Storm Project.
ABOUT ASTON BAY HOLDINGS LTD.
Aston Bay Holdings Ltd. (TSX-V: BAY) is a publicly traded mineral exploration company exploring for large, high-grade, sediment-hosted copper and zinc deposits in Nunavut, a mining-friendly Canadian jurisdiction. Aston Bay is 100% owner of the 1,024,345-acre (414,537-hectare) Aston Bay Property located on western Somerset Island, Nunavut. The Aston Bay Property hosts the Storm Copper Project and the Seal Zinc Prospect, with historical drilling confirming the presence of sediment-hosted copper and zinc mineralization.
The Company's public disclosure documents are available on www.sedar.com.
FORWARD-LOOKING STATEMENTS
Statements made in this press release, including those regarding the closing and the use of proceeds of the private placement, management objectives, forecasts, estimates, expectations, or predictions of the future may constitute "forward-looking statement", which can be identified by the use of conditional or future tenses or by the use of such verbs as "believe", "expect", "may", "will", "should", "estimate", "anticipate", "project", "plan", and words of similar import, including variations thereof and negative forms. This press release contains forward-looking statements that reflect, as of the date of this press release, Aston Bay's expectations, estimates and projections about its operations, the mining industry and the economic environment in which it operates. Statements in this press release that are not supported by historical fact are forward-looking statements, meaning they involve risk, uncertainty and other factors that could cause actual results to differ materially from those expressed or implied by such forward-looking statements. Although Aston Bay believes that the assumptions inherent in the forward-looking statements are reasonable, undue reliance should not be placed on these statements, which apply only at the time of writing of this press release. Aston Bay disclaims any intention or obligation to update or revise any forward-looking statement, whether as a result of new information, future events or otherwise, except to the extent required by securities legislation. We seek safe harbour.
Neither TSX Venture Exchange nor its regulation services provider (as that term is defined in policies of the TSX Venture Exchange) accepts responsibility for the adequacy or accuracy of this news release.
THIS PRESS RELEASE, REQUIRED BY APPLICABLE CANADIAN LAWS, IS NOT FOR DISTRIBUTION TO U.S. NEWS SERVICES OR FOR DISSEMINATION IN THE UNITED STATES, AND DOES NOT CONSTITUTE AN OFFER TO SELL OR A SOLICITATION OF AN OFFER TO SELL ANY OF THE SECURITIES DESCRIBED HEREIN IN THE UNITED STATES. THESE SECURITIES HAVE NOT BEEN, AND WILL NOT BE, REGISTERED UNDER THE UNITED STATES SECURITIES ACT OF 1933, AS AMENDED, OR ANY STATE SECURITIES LAWS, AND MAY NOT BE OFFERED OR SOLD IN THE UNITED STATES OR TO U.S. PERSONS UNLESS REGISTERED OR EXEMPT THEREFROM.
FOR ADDITIONAL INFORMATION CONTACT:
Thomas Ullrich, Chief Executive Officer
thomas.ullrich@astonbayholdings.com
Telephone: (416) 456-3516