Aston Bay Holdings Ltd. (TSX-V: BAY; OTCQB: ATBHF) ("Aston Bay" or the "Company") is pleased to announce the results of its 3,135-metre, nine-hole 2018 summer exploration drilling program at its Aston Bay Property located on Somerset Island, Nunavut. The property is underlain by Paleozoic carbonate rocks prospective for high-grade copper and zinc mineralisation, with demonstrated affinities to the nearby past-producing Polaris zinc mine.
The program comprised seven holes at the Storm copper prospect and two along strike from the Seal zinc deposit. Targets were based primarily on interpreted gravity gradiometry anomalies proximal to known mineralisation at Storm and Seal. Unusually challenging weather reduced the planned meterage for this drill season and several anomalies remain untested. The majority of the drill holes were relatively shallow at approximately 300m or less (Table 1).
VTEM and gravity gradiometry delineate copper mineralization at Storm
At Storm, hole AB18-09 targeted a 200 by 200 metre VTEM anomaly coincident with the western flank of a gravity anomaly, ~2.2 kilometres along strike from the 2750N zone (Figures 1 and 2). An historical drill hole, ST97-15, was drilled northwards to intersect local copper mineralisation (3m grading 1.5% Cu) on what Aston Bay's modelling interpreted as the flank of the VTEM anomaly.  Drill hole AB18-09 was drilled southwards and intersected significant copper in variably brecciated dolomudstone of the Allen Bay Formation from 39 to 83 metres downhole, primarily as fracture-controlled chalcocite with lesser to minor chalcopyrite, native copper and cuprite. Significant results within the 44m copper mineralized zone include:
from 39.0 to 40.5m, 1.5 m grading 4.39% Cu and 9.76 g/t Ag
and, from 62.5 to 83m, 20.5m grading 0.56% Cu
including, from 74.0 to 76.0m, 2.0m grading 2.54% Cu
These results demonstrate the continued effectiveness of VTEM, in conjunction with modelled gravity gradiometry, in detecting shallow copper sulphides. The remaining holes at Storm intersected local pyrite mineralisation, primarily in Allen Bay dolomudstones (Figures 2 and 3). The origin of these targeted gravity gradiometry anomalies remains unclear: variations in bulk rock density, topography and depth to target are possible explanations being investigated in advance of targeting and drill planning for the 2019 season. Density data obtained from this year's core drilling will be instrumental in improving the targeting. Numerous gravity targets in the vicinity of the ~5km-long Storm graben remain untested, and drilling to date has been shallow relative to the prospectivity for stratiform mineralisation at depth.
Gravity target yields new zinc mineralized zone south of Seal
At Seal, only two holes were completed due to challenging weather conditions and an initial focus on Storm targets (Figures 4 and 5). Nonetheless, drilling was successful in discovering an interpreted extension of the Seal mineralised system approximately 1.2 km southwards along strike, in the northernmost part of the Seal South area and adjacent to tidewater. Drill hole AB18-06B targeted the extreme northern end of an 800m long positive gravity gradiometry anomaly (S12 on Figure 5) coincident with local subcropping sphalerite-pyrite mineralisation. After passing through locally weakly mineralised sandstone and dolomite of the lower Ship Point Formation, host to the Seal deposit, the drill hole intersected significant sphalerite mineralisation between 109.5 m and 136.0 m within moderately to strongly altered pseudobreccia, pyrite/marcasite and rubbly dolostone and limestone of the Turner Cliffs Formation. Results include:
from 125.0 to 131.0m, 6.0m grading 0.67% Zn,
including from 127 to 129m, 2.0m grading 1.11% Zn.
As at Seal, the mineralised pseudobreccia in AB180-06B is considered analogous to pseudobreccia present at the Polaris deposit, where it occurs as a lateral hydrothermal alteration equivalent to ore.  The discovery of mineralised pseudobreccia at Seal South in the Turner Cliffs Formation is interpreted as a favourable indicator of hydrothermal alteration and the potential for additional stratiform zinc mineralisation in vicinity of Seal.
The last hole of the 2018 Seal program, AB18-08, was collared 100 m southeast along strike from AB18-06B. It intersected, at a similar position in the Turner Cliffs Formation, a 1m zone of sphalerite mineralisation from 132.0 to 133.0m grading 0.16% Zn, within a broader zone of weak mineralisation. Core recoveries in the zone were poor, only 38% in the specified interval.
The remaining ~700m strike length of the S12 gravity anomaly is untested and is a promising drill target for 2019. Four additional priority anomalies, S13 – S16, occur in close proximity to the Seal deposit (Figure 5) and also are untested, as are several other anomalies at Seal North (see August 1, 2018 press release).
"Aston Bay is very encouraged by the discovery of zinc mineralisation coincident with Polaris-type pseudobreccia spatially associated with the S12 gravity anomaly at Seal South, at this early stage of testing the multiple anomalies in the vicinity of the Seal deposit," commented Dr. David Broughton, Chief Geologist. "Results at Storm will provide impetus for continued improvement of geophysical modeling, and refinement of drill targets for the 2019 season."
"These results demonstrate that we now better recognize the signature of both copper and zinc mineralization in our data," stated Thomas Ullrich, CEO. "We are eager to apply these insights to drilling throughout this large and prospective property."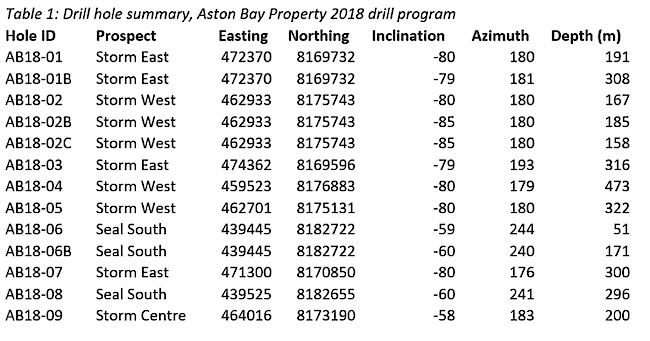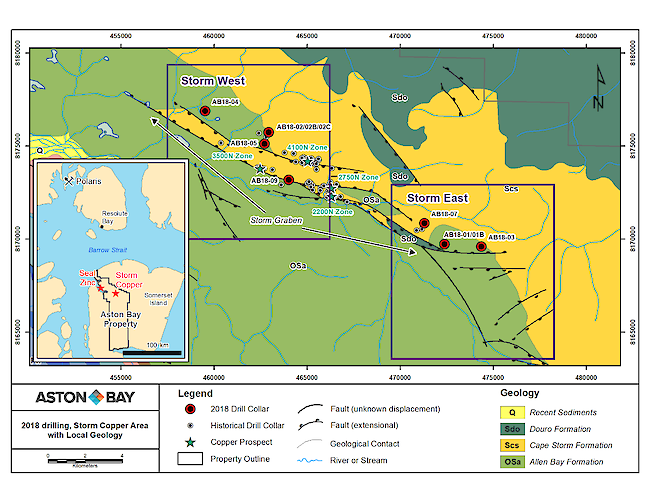 Figure 1: Storm area 2018 drill collar locations and location of detailed figures Storm West and Storm East. Inset map shows the location of Aston Bay's Seal zinc and Storm copper projects south of the Polaris mine and the community of Resolute Bay in the Polaris mining district, Nunavut.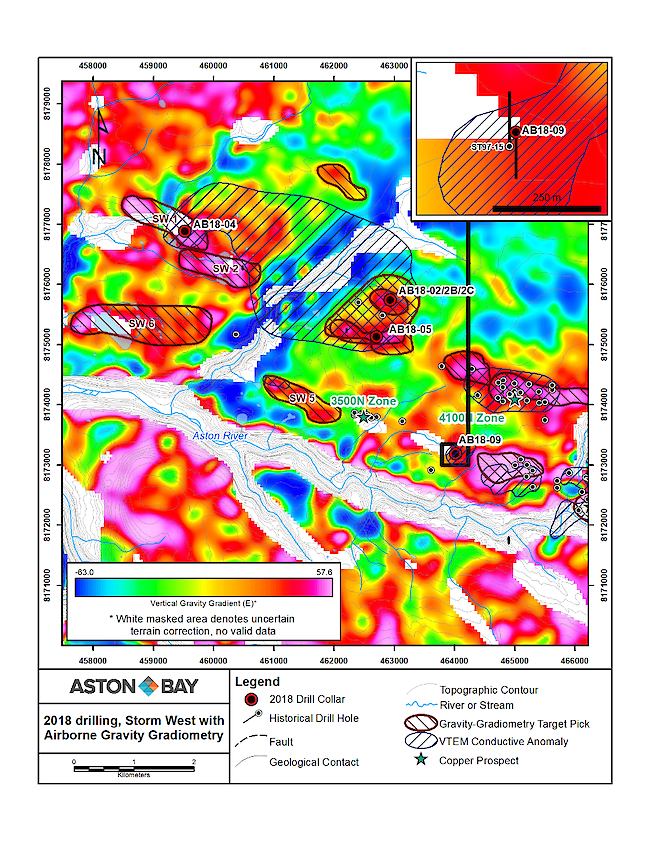 Figure 2: Storm West area: gravity targets, vertical gravity gradient, select VTEM anomalies and 2018 drill collar locations.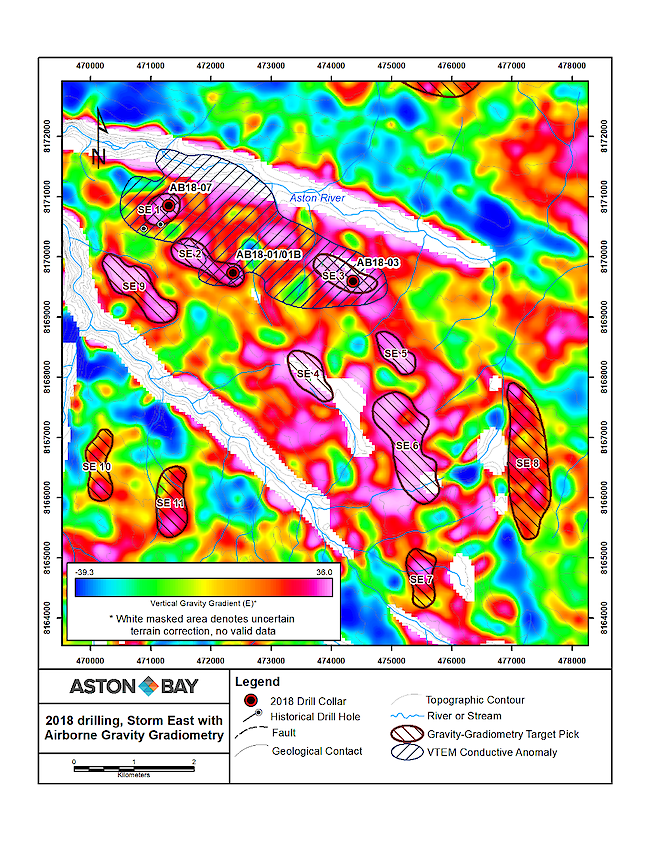 Figure 3: Storm East area: gravity targets, vertical gravity gradient, select VTEM anomalies and 2018 drill collar locations.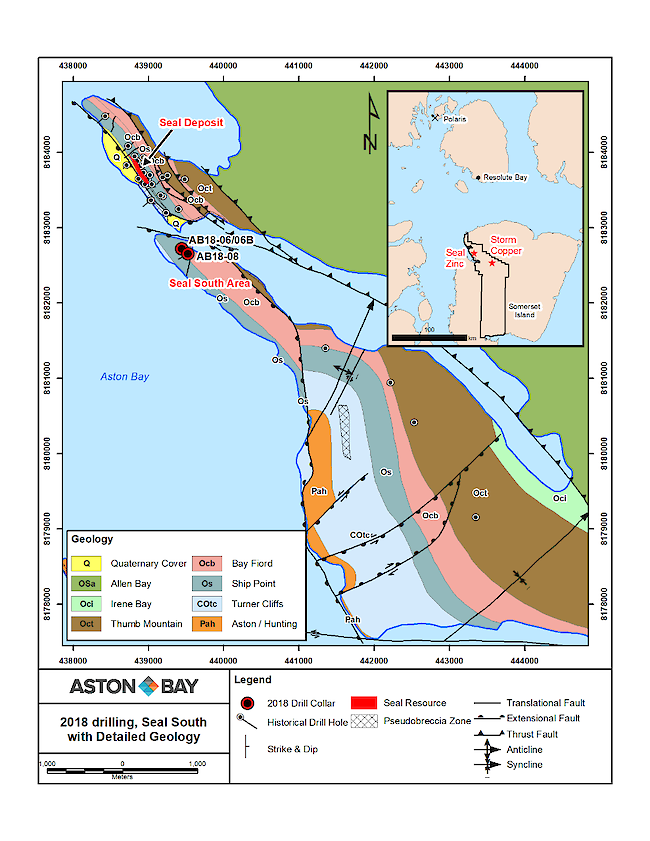 Figure 4: Geological map of Seal and Seal South areas. Inset map shows the location of Aston Bay's Seal zinc and Storm copper projects south of the Polaris mine and the community of Resolute Bay in the Polaris mining district, Nunavut.

Figure 5: Gravity gradiometry map of Seal deposit and Seal South prospect, with 2018 drill collar locations, select geology, and historical drilling. The surface projection of the Seal deposit is shown in grey.
QUALIFIED PERSON
As per National Instrument 43-101 Standards of Disclosure for Mineral Projects, Michael Dufresne, M.Sc., P.Geol., P.Geo., a Director of and a consultant to Aston Bay, is the Qualified Person for the Company and has prepared, validated and approved the technical and scientific content of this news release. The Company strictly adheres to CIM Best Practices Guidelines in conducting, documenting, and reporting its exploration activities on the Storm Project.
ABOUT ASTON BAY HOLDINGS LTD.
Aston Bay Holdings Ltd. is a publicly traded mineral exploration company exploring for large, high-grade, sediment-hosted copper and zinc deposits in North America. Aston Bay is 100% owner of the 1,024,345-acre (414,537-hectare) Aston Bay Property located on western Somerset Island, Nunavut. The Aston Bay Property hosts the Storm Copper Project and the Seal Zinc Prospect, with historical drilling confirming the presence of sediment-hosted copper and zinc mineralization. The Company has also entered into an agreement to acquire exclusive rights to an integrated geophysical, geochemical and geological dataset over a 1.2 million-acre (0.5 million-hectare) area located in central Virginia, USA. The Company's public disclosure documents are available on www.sedar.com.
FORWARD-LOOKING STATEMENTS
Statements made in this press release, including those regarding the completion of the acquisition, management objectives, forecasts, estimates, expectations, or predictions of the future may constitute "forward-looking statement", which can be identified by the use of conditional or future tenses or by the use of such verbs as "believe", "expect", "may", "will", "should", "estimate", "anticipate", "project", "plan", and words of similar import, including variations thereof and negative forms. This press release contains forward-looking statements that reflect, as of the date of this press release, Aston Bay's expectations, estimates and projections about its operations, the mining industry and the economic environment in which it operates. Statements in this press release that are not supported by historical fact are forward-looking statements, meaning they involve risk, uncertainty and other factors that could cause actual results to differ materially from those expressed or implied by such forward looking statements. Although Aston Bay believes that the assumptions inherent in the forward-looking statements are reasonable, undue reliance should not be placed on these statements, which apply only at the time of writing of this press release. Aston Bay disclaims any intention or obligation to update or revise any forward-looking statement, whether as a result of new information, future events or otherwise, except to the extent required by securities legislation. We seek safe harbour.
Neither TSX Venture Exchange nor its regulation services provider (as that term is defined in policies of the TSX Venture Exchange) accepts responsibility for the adequacy or accuracy of this news release.
FOR ADDITIONAL INFORMATION CONTACT:
Thomas Ullrich, Chief Executive Officer
thomas.ullrich@astonbayholdings.com
Telephone: (416) 456-3516