Aston Bay Holdings Ltd. (TSX-V: BAY) ("Aston Bay" or the "Company") is pleased to announce additional results of targeting at its 100% owned Aston Bay Property. Based on modeling and inversion of the >15,000 line-kilometre (km) airborne gravity gradiometry (AGG) survey flown in 2017, and integration with existing VTEM, geochemical and geological datasets, the Company has generated multiple priority drill targets at the Storm Copper prospect for testing during the summer drill program. Reprocessing and modeling of the AGG data was performed by geophysicists at Gedex Systems Inc. ("Gedex"). Storm Copper lies within the Company's >1,000,000 acre (4,145 km2) Aston Bay Property in the Polaris Mining District, Somerset Island, Nunavut. Drill targets were previously announced for the Seal Zinc deposit and surrounds (see the Company's news release dated May 31, 2018).
Description of Storm Copper
The Storm Copper prospect contains high-grade copper mineralization hosted in gently dipping Paleozoic carbonate rocks, along and adjacent to the northern and southern margins of a west-northwest to east-northeast trending, ~1 km wide, fault-bounded valley or graben (Figure 1). The mineralization is constrained by geochronological dating as part of a regional copper and zinc mineralization event that also formed the past-producing (21 Mt at 13.4% Zn (Dewey et al., 2007)) Polaris mine, and by analogy, the Seal Zinc deposit. At Storm, disseminated and fracture-controlled chalcocite is present over a strike length of >4 km at the sub-cropping, 2200N, 2750N and 3500N and sub-surface 4100N zones. Highlights from previous drilling are shown in the accompanying Table 1, and include 32.8m grading 5.40% Cu (ST97-08), 24.6m grading 6.17% Cu (ST99-19) and, most recently, 8.0m grading 5.45% Cu (STOR1601D). The 2017 gravity survey detected anomalies coincident with known zones of mineralization and identified additional anomalies beyond the previous limits of drilling.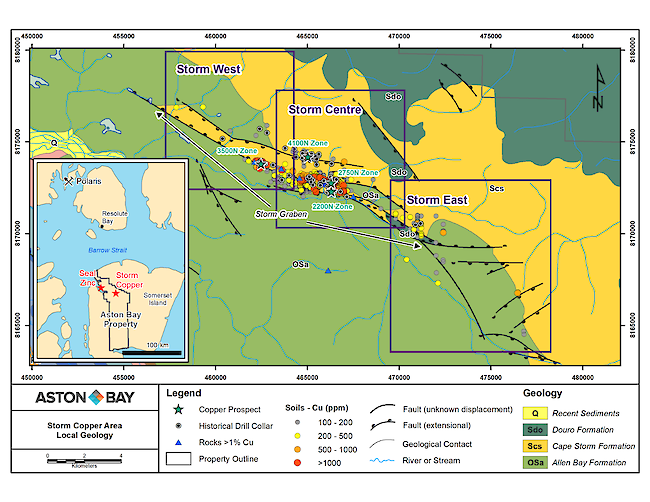 Figure 1. Location of Storm Copper prospect (2200N, 2750N 3500N and 4100N Zones) and location of subsequent detailed figures.
Storm West Drill Targets
A series of new gravity targets partly coincident with VTEM conductive anomalies have been identified along strike to the west (Storm West, Figure 2) and to the southeast (Storm East, Figure 3) of the Storm mineralization. To the west, four discrete anomalies (SW1-SW4) occur adjacent to the northern fault bounding the Storm graben, along strike from the 4100N zone. These lie partially to completely within a previously identified ~4 km x 2 km VTEM conductive anomaly, where surface soil samples returned anomalous results of up to 221 ppm Cu. Two historical and relatively shallow (~150m) drill holes in the easternmost part of the VTEM anomaly were drilled between the newly defined gravity features (see inset, Figure 2); the remaining areas have not previously been drilled. On the southern flank of the Storm graben, two gravity anomalies (SW5 and SW6) have been identified along strike from the 3500N zone, which, although associated with surface rock and drill core copper mineralization, lacks a significant associated gravity or VTEM anomaly. The eastern of these (SW5) is coincident with soil samples that returned up to 303ppm Cu and has a strike length of ~1km immediately adjacent to the 3500N zone, whereas the western, ~2 km long anomaly (SW6) is subtle and may represent a deeper target.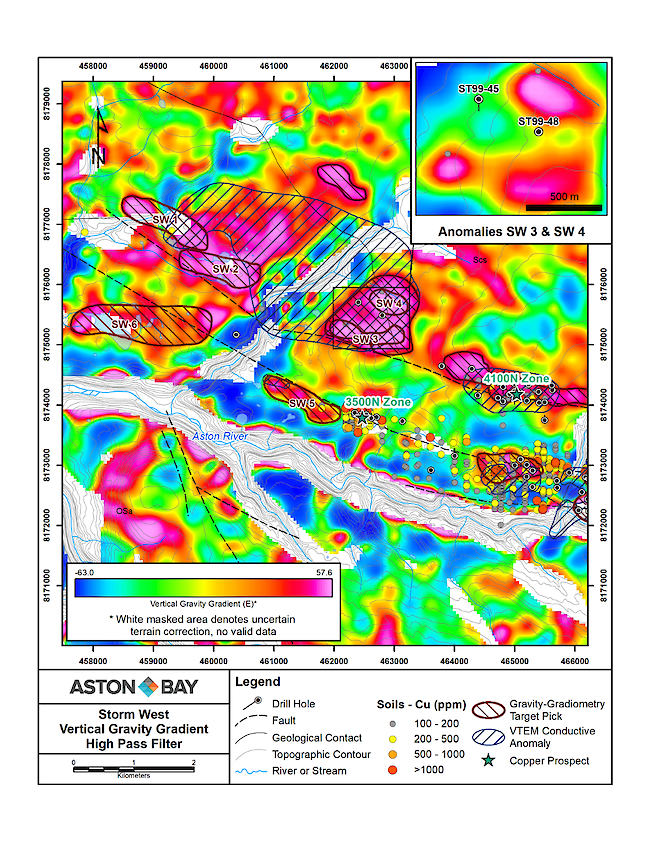 Figure 2. Storm West area: gravity targets, vertical gravity gradient, VTEM anomalies and soil geochemistry.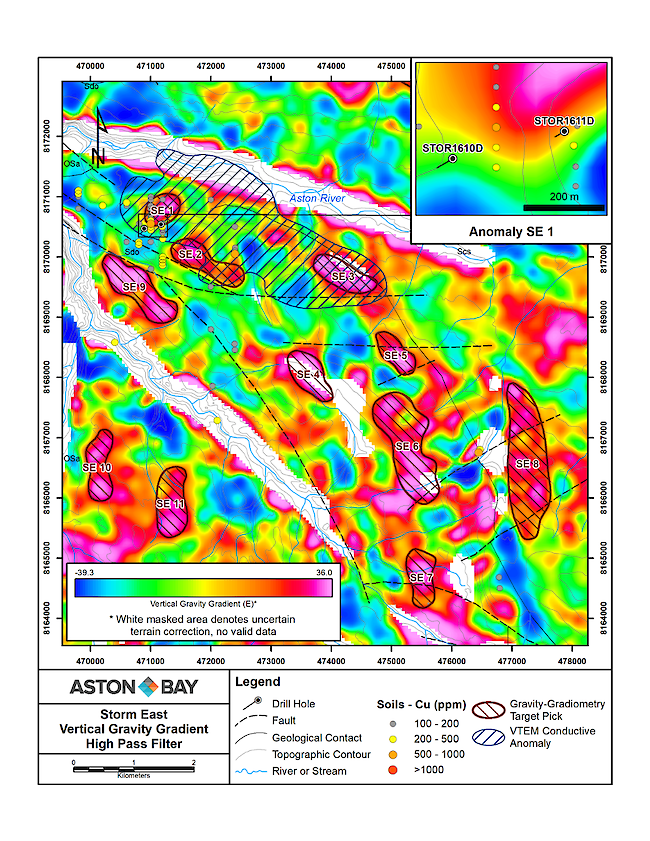 Figure 3. Storm East area: gravity targets, vertical gravity gradient, VTEM anomalies and soil geochemistry.
Storm East Drill Targets
East of the 4100N and 2200N zones, the Storm graben turns southeastwards and has received only limited drilling (Figure 3). Coincident with the change in strike is a ~4 km x 1.5 km VTEM anomaly within which the gravity survey identified three separate anomalies (SE1 to SE3). The northernmost of these (SE1) has associated anomalous Cu values in soil samples (up to 592 ppm); two holes drilled in 2016 were collared to the south of and oriented away from the gravity feature (inset, Figure 3). The other two gravity features within the VTEM anomaly (SE2 and SE3) are untested. Further south, four gravity anomalies lie within the projected trend of the graben (SE4 to SE7, and additional anomalies flank the graben to the east (SE8) and west (SE9 to SE11).
"We are pleased with Gedex's ability to delineate large, kilometre-scale, near-surface density anomalies from within the broader anomalies defined by the original AGG survey," stated Thomas Ullrich, CEO of Aston Bay. "These are the priority targets for our summer drill program."
Dr. David Broughton, Chief Geologist for Aston Bay, commented "We are very encouraged by the success of the gravity survey both in detecting known mineralization as proof-of-concept and in identifying new targets within the prospective Storm graben trend."
Summer 2018 Drill Program
Mobilization of crew and equipment to the Aston Bay site via Yellowknife and the air base at Resolute has commenced. Approximately 6000 m of drilling is planned for the summer 2018 program. The Company expects to commence drilling before the end of June, initially at the Storm Copper targets and subsequently at Seal Zinc. "The 2018 drill program will soon be underway, and we look forward to updating investors on developments and results as they become available," remarked Mr. Ullrich. "The Storm Copper and Seal Zinc areas examined thus far represent just 14% of our property on Somerset Island. Targeting continues outside of these areas, and we expect to present additional copper and zinc targets in the coming weeks."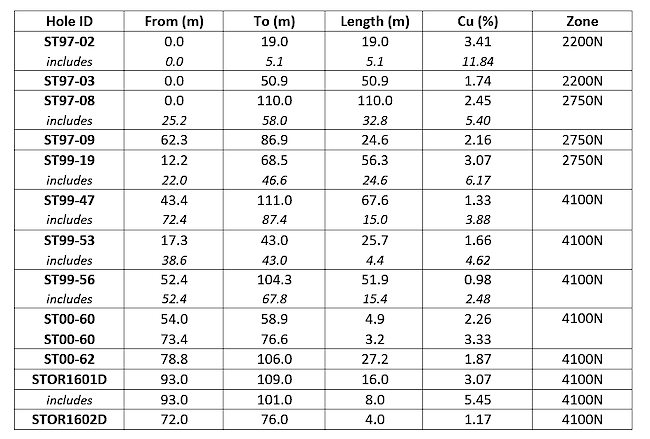 Table 1. Highlights from previous drilling, Storm Copper.
REFERENCE
Dewing, K., Sharp, R.J., Turner, E., 2007, Synopsis of the Polaris Zn-Pb District, Canadian Arctic Islands, Nunavut, in Goodfellow, W.D., ed., Mineral Deposits of Canada: A Synthesis of Major Deposit-Types, District Metallogeny, the Evolution of Geological Provinces, and Exploration Methods: Geological Association of Canada, Mineral Deposits Division, Special Publication No. 5, p. 655-672.
QUALIFIED PERSON
As per National Instrument 43-101 Standards of Disclosure for Mineral Projects, Michael Dufresne, M.Sc., P.Geol., P.Geo., a Director of and a consultant to Aston Bay, is the Qualified Person for the Company and has prepared, validated and approved the technical and scientific content of this news release. The Company strictly adheres to CIM Best Practices Guidelines in conducting, documenting, and reporting its exploration activities on the Storm Project.
ABOUT ASTON BAY HOLDINGS LTD.
Aston Bay Holdings Ltd. (TSX-V: BAY) is a publicly traded mineral exploration company exploring for large, high-grade, sediment-hosted copper and zinc deposits in Nunavut, a mining-friendly Canadian jurisdiction. Aston Bay is 100% owner of the 1,024,345-acre (414,537-hectare) Aston Bay Property located on western Somerset Island, Nunavut. The Aston Bay Property hosts the Storm Copper Project and the Seal Zinc Prospect, with historical drilling confirming the presence of sediment-hosted copper and zinc mineralization.
The Company's public disclosure documents are available on www.sedar.com.
ABOUT GEDEX INC.
Located in Mississauga, Ontario, Gedex is a leading developer of sub-surface imaging technology with its new High-Definition Airborne Gravity Gradiometer (HD-AGG®). In combination with proprietary processing and interpretation capabilities the patented Gedex HD-AGG® technology is highly effective in substantially reducing the risk and cost of mineral and petroleum exploration.
FORWARD-LOOKING STATEMENTS
Statements made in this press release, including those regarding the closing and the use of proceeds of the private placement, management objectives, forecasts, estimates, expectations, or predictions of the future may constitute "forward-looking statement", which can be identified by the use of conditional or future tenses or by the use of such verbs as "believe", "expect", "may", "will", "should", "estimate", "anticipate", "project", "plan", and words of similar import, including variations thereof and negative forms. This press release contains forward-looking statements that reflect, as of the date of this press release, Aston Bay's expectations, estimates and projections about its operations, the mining industry and the economic environment in which it operates. Statements in this press release that are not supported by historical fact are forward-looking statements, meaning they involve risk, uncertainty and other factors that could cause actual results to differ materially from those expressed or implied by such forward-looking statements. Although Aston Bay believes that the assumptions inherent in the forward-looking statements are reasonable, undue reliance should not be placed on these statements, which apply only at the time of writing of this press release. Aston Bay disclaims any intention or obligation to update or revise any forward-looking statement, whether as a result of new information, future events or otherwise, except to the extent required by securities legislation. We seek safe harbour.
Neither TSX Venture Exchange nor its regulation services provider (as that term is defined in policies of the TSX Venture Exchange) accepts responsibility for the adequacy or accuracy of this news release.
FOR ADDITIONAL INFORMATION PLEASE CONTACT:
Thomas Ullrich, Chief Executive Officer
thomas.ullrich@astonbayholdings.com
Telephone: (416) 456-3516