Aston Bay Holdings Ltd. (TSX-V: BAY) ("Aston Bay" or the "Company") is pleased to release additional results from interpretation of the 2017 high-resolution airborne gravity gradiometry survey over its 100% owned, >1,000,000 acre (4,145 km2) Aston Bay Property, located in the Polaris mining district, Somerset Island, Nunavut. Previous news releases highlighted drill targets from the Storm Copper prospect, where two helicopter-supported diamond drill rigs are currently operating, and along strike from/adjacent to the Seal Zinc deposit (see the Company's news releases dated May 31 and June 21, 2018). The Company plans to begin drilling targets in the Seal area in August.
The Seal North area lies along trend immediately northwest of the Seal Zinc deposit (Figure 1), which occurs within 200 m of tidewater and contains current NI 43-101 Inferred Mineral Resources of 1.01 million tonnes (Mt), grading 10.2% zinc (Zn) and 46.5 grams per tonne (g/t) silver (Ag). The Seal Zinc deposit is characterized by stratiform massive and replacive sphalerite-pyrite mineralization within the lower Ship Point formation, and an associated locally mineralized pseudobreccia in the underlying Turner Cliffs formation. The style of mineralization and the presence of pseudobreccia are both comparable to mineralization at the Polaris Mine, which Cominco Ltd. operated for 21 years, producing 21 Mt of ore grading 13.4% Zn (Dewing et al., 2007).
Several gravity anomalies occur along trend from Seal and are localized within a broadly stratigraphic gravity high within the Allen Bay formation, which overlies the sequence containing the Ship Point and Thumb Mountain formations, host to Seal and Polaris respectively (Figure 2). Two of these gravity anomalies have coincident historical zinc-in-soil anomalies and are targets for ground follow-up and potential drilling. A third target is defined by a localized gravity anomaly coincident with the contact between the Allen Bay and overlying Cape Storm formations, also with a supporting historical zinc-in-soil anomaly, and similarly suggests follow-up drilling. The historical samples were not analyzed for copper, and Aston Bay has now resampled these areas to provide a full analytical suite.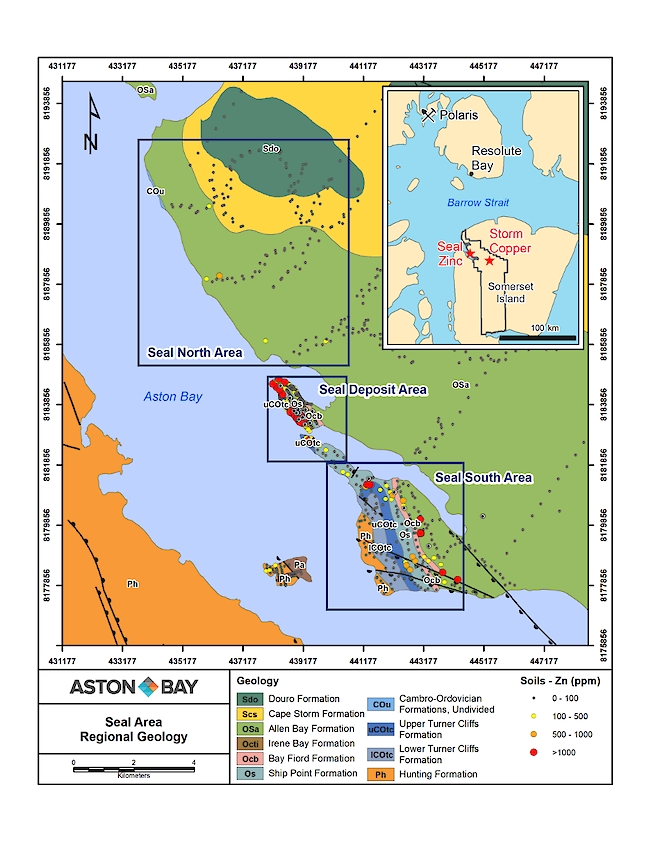 Figure 1. Geological map of Seal North, Seal and Seal South areas, and location of subsequent detailed figures. Inset map shows the location of Aston Bay's Seal Zinc and Storm Copper projects south of the Polaris mine and the community of Resolute Bay in the Polaris mining district, Nunavut.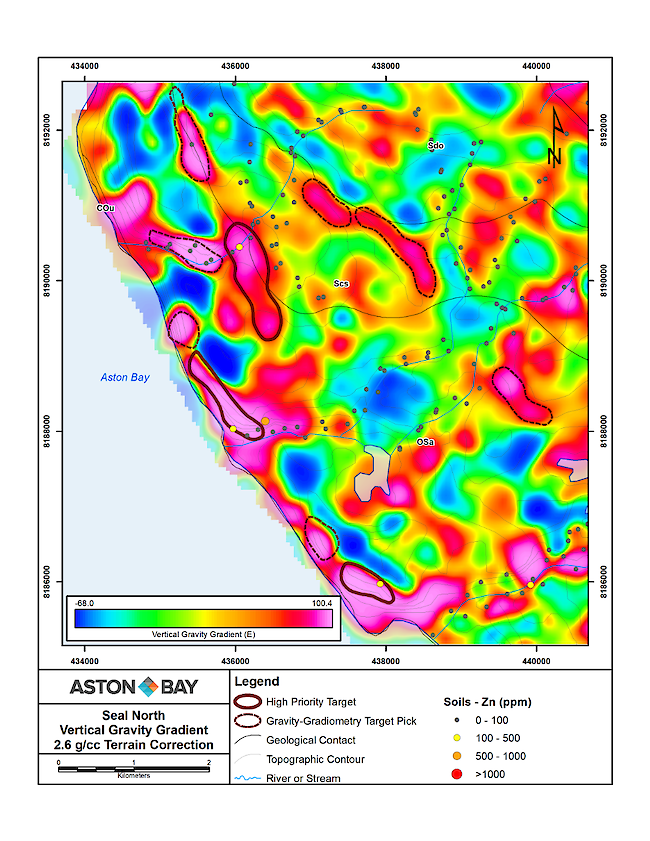 Figure 2. Seal North vertical gravity gradient, targets and zinc in soils.
REFERENCE
Dewing, K., Sharp, R.J., Turner, E., 2007, Synopsis of the Polaris Zn-Pb District, Canadian Arctic Islands, Nunavut, in Goodfellow, W.D., ed., Mineral Deposits of Canada: A Synthesis of Major Deposit-Types, District Metallogeny, the Evolution of Geological Provinces, and Exploration Methods: Geological Association of Canada, Mineral Deposits Division, Special Publication No. 5, p. 655-672.
QUALIFIED PERSON
As per National Instrument 43-101 Standards of Disclosure for Mineral Projects, Michael Dufresne, M.Sc., P.Geol., P.Geo., a Director of and a consultant to Aston Bay, is the Qualified Person for the Company and has prepared, validated and approved the technical and scientific content of this news release. The Company strictly adheres to CIM Best Practices Guidelines in conducting, documenting, and reporting its exploration activities on the Storm Project.
ABOUT ASTON BAY HOLDINGS LTD.
Aston Bay Holdings Ltd. (TSX-V: BAY) is a publicly traded mineral exploration company exploring for large, high-grade, sediment-hosted copper and zinc deposits in Nunavut, a mining-friendly Canadian jurisdiction. Aston Bay is 100% owner of the 1,024,345-acre (414,537-hectare) Aston Bay Property located on western Somerset Island, Nunavut. The Aston Bay Property hosts the Storm Copper Project and the Seal Zinc Prospect, with historical drilling confirming the presence of sediment-hosted copper and zinc mineralization.
The Company's public disclosure documents are available on www.sedar.com.
FORWARD-LOOKING STATEMENTS
Statements made in this press release, including those regarding the closing and the use of proceeds of the private placement, management objectives, forecasts, estimates, expectations, or predictions of the future may constitute "forward-looking statement", which can be identified by the use of conditional or future tenses or by the use of such verbs as "believe", "expect", "may", "will", "should", "estimate", "anticipate", "project", "plan", and words of similar import, including variations thereof and negative forms. This press release contains forward-looking statements that reflect, as of the date of this press release, Aston Bay's expectations, estimates and projections about its operations, the mining industry and the economic environment in which it operates. Statements in this press release that are not supported by historical fact are forward-looking statements, meaning they involve risk, uncertainty and other factors that could cause actual results to differ materially from those expressed or implied by such forward-looking statements. Although Aston Bay believes that the assumptions inherent in the forward-looking statements are reasonable, undue reliance should not be placed on these statements, which apply only at the time of writing of this press release. Aston Bay disclaims any intention or obligation to update or revise any forward-looking statement, whether as a result of new information, future events or otherwise, except to the extent required by securities legislation. We seek safe harbour.
Neither TSX Venture Exchange nor its regulation services provider (as that term is defined in policies of the TSX Venture Exchange) accepts responsibility for the adequacy or accuracy of this news release.
THIS PRESS RELEASE, REQUIRED BY APPLICABLE CANADIAN LAWS, IS NOT FOR DISTRIBUTION TO U.S. NEWS SERVICES OR FOR DISSEMINATION IN THE UNITED STATES, AND DOES NOT CONSTITUTE AN OFFER TO SELL OR A SOLICITATION OF AN OFFER TO SELL ANY OF THE SECURITIES DESCRIBED HEREIN IN THE UNITED STATES. THESE SECURITIES HAVE NOT BEEN, AND WILL NOT BE, REGISTERED UNDER THE UNITED STATES SECURITIES ACT OF 1933, AS AMENDED, OR ANY STATE SECURITIES LAWS, AND MAY NOT BE OFFERED OR SOLD IN THE UNITED STATES OR TO U.S. PERSONS UNLESS REGISTERED OR EXEMPT THEREFROM.
FOR ADDITIONAL INFORMATION CONTACT:
Thomas Ullrich, Chief Executive Officer
thomas.ullrich@astonbayholdings.com
Telephone: (416) 456-3516